There's a new angel….
The following is from All About Equine Animal Rescue: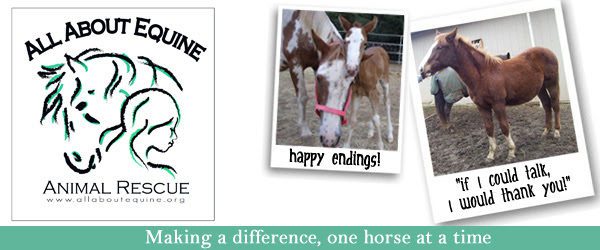 There's a new angel, his name is…
Yesterday was a somber day at AAE, to say the least.  We said our last goodbye to one of the greatest ol' guys that ever graced the barn at AAE.  Kasey was one of the most kind, gentle, brave, and stoic souls you could ever know.
Sadly, he reminded us how quickly things can change.  This past year was a long one as we battled an enormous hoof abscess.  He was winning!  Though the abscess invaded a huge amount of his hoof, he remained comfortable and sound once the abscess broke through his coronary band.  Unfortunately, the integrity of his hoof was compromised. Enormous shoes to support his enormous weight and a hospital plate did the trick, until recently.
He was sound one day, and very uncomfortable the next.  Initially thinking another recurrence, we tried pain meds, but even at a high dose, we couldn't manage the pain.  New radiographs showed his coffin bone had rotated severely.
Kasey was so handsome and regal…
…and he was truly a big goofball.  He thoroughly entertained us playing right along with all of our antics and dress up games for the holidays.
He was a man of all seasons…
He defined "gentle giant" and calmed the fears of so many people, and he loved attention and royal treatment.
He lost his buddy, Angus last year. Angus lost some of his vision, and Kasey became his sight.
They were two peas in pod.
When Angus was gone, a new gal came a knockin'.  They met…and I wouldn't say it was "love at first sight", but they ended up gettin' hitched.  It was a really formal affair.
His hoof care management was an enormous task, as you might imagine.  Kasey and everyone at AAE is forever grateful for the love and dedication of his pal, Michelle.  She was diligent in caring for his hoof….picking, flushing, wrapping, rewrapping, and making sure he got everything he needed.
Kase…as you and Angus, together again, are running over those green pastures, remember how much everyone loved you!
Be sure to check back with us now and then, there's always a place for you here in the barn.
We all want one more hug, big guy.
Love ya' and miss ya forever, all of you're friends at AAE