The following is from Save Your Ass Long Ear Rescue:
Happy Autumn
Hello again! Remember me? Apologies for the lack of newsletters. To be honest, I have just not felt up to writing. The current state of affairs in the world has knocked me off my perch a bit. I do miss writing about what is going on as a LOT has been going on at Broomtail Farm, home of Save Your Ass Long Ear Rescue.
It's been quite stressful dealing with the increase in the price of just about everything we need. Supplies are more expensive; feed is more expensive; our hay price went up by 3.50 a bale! Hopefully we will be able to find enough to get us through the winter. Our Shelter Logic buildings all bit the dust this year so new hay storage sheds were required. We figured even though the initial investment was much greater, a shed will last a heck of a lot longer.
Hannah has been working like crazy and the results are apparent. We have taken in quite a few animals in need of medical care and training. All the animals that came in as "unhandleable" are now enjoying physical attention. All have had their VERY PRICY medical issues taken care of. Thank you, Hannah!
We have been getting a lot of calls from folks needing to surrender their animals. So many that we currently have a waiting list as we just don't have the room or resources to take in more at this time.
We have just made the sad decision not to have our Open House again this year due to the pandemic. The Delta variant has been prevalent in our area, and we do not want to put anyone at risk. We are not doing Equine Affaire this year also due to the pandemic. We miss seeing our friends and supporters in person, but it's not worth the risk of having anyone become ill.
For a wee bit of good news, we will be getting some new merchandise in for your holiday shopping. We have recently got in a few adoption applications, so there is a light at the end of the tunnel.
I thank each and every one of you for your kind words and acts of support. We could not do what we do without you.
Stay well.
Ann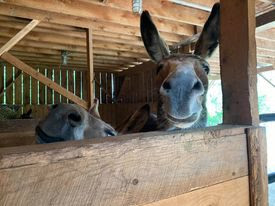 Merlot and Grayson say have a happy fall!