This is an update from All About Equine Rescue.
All About Equine Animal Rescue, Inc.
You have until 5p to bid to make your holiday season sparkle while helping horses in need!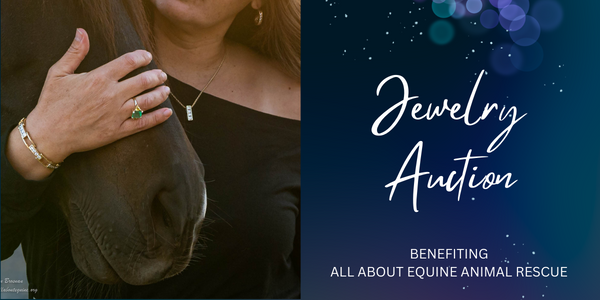 With enormous thanks to our very generous donor, we received an incredible jewelry donation to help us with our fundraising efforts. These five pieces are beautiful and blingy, and you can now bid on them in an online auction to benefit horses in need. They are sure to make for some extra special holiday gifts!
14K Yellow Gold Diamond Earrings
The earrings are custom-made and each contains 11 channel set round brilliant cut diamonds. Timeless and brilliant, these will add sparkle to any outfit! Remember, horses and diamonds are a girl's best friend!
14K Yellow Gold Custom-Made Diamond Pendant
The pendant contains four matching channel set round brilliant cut diamonds. Classic and brilliant, the horses will feel your love whenever you wear it.
14K Yellow Gold and Amethyst Ring
This gorgeous ring features a unique oblong 3D triangle cut amethyst stone in a 14K yellow gold mounting. As you slip this glorious gem on your finger, you may hear soft nickers of thanks from our beloved horses.
14K Yellow Gold Lady's Emerald and Sapphire Ring
This brightly polished ring contains a natural emerald cut emerald center stone accented by two (one per side) fancy yellow sapphires. Everyone will be green with envy of the lucky individual who owns this emerald.
14K Yellow Gold and Diamond Bracelet
Imagine this stunning symbol of love encircling your wrist! There is approximately 29.6 grams of gold and 5.5 carats of diamonds in this bracelet.
Bidding is open now and will close on December 15 at 5pm PST!
You can view the auction and bid here.
All of these beautiful pieces will bring you years of joy while helping one of these beloved horses live a better life.
Please share the online auction with your family, friends, co-workers, and anyone that loves jewelry. Help us spread the word and help horses in need.