A recent article at the Chronicle of the Horse had us excited to share the story of Buckeye, an 8 year-old Appaloosa mule who has been showing off the versatility of mules with his skills in the arena.
When Buckeye first came to owner Christina Gregory, he was a little green under the saddle after being mostly used as a driving mule for an Amish family. After some initial work with Christina, he began training with 22 year-old Samantha (Sammi) Majors.
Sammi began him with dressage and earlier in the year he was impressing judges and scoring consistently in the high 60 and low 70 percents in recognized shows. This fall she decided to add jumping in preparation for a show.  "He loves jumping. For a long time we would work on dressage stuff and school him over cavalletti, and he always loved it. We'd be doing a 20-meter circle, and if we went anywhere near the cavalletti he would try to pull me to it," said Majors. "As soon as we started jumping he took an immediate liking to it. That's all he seems to want to do now is jump, jump, jump!"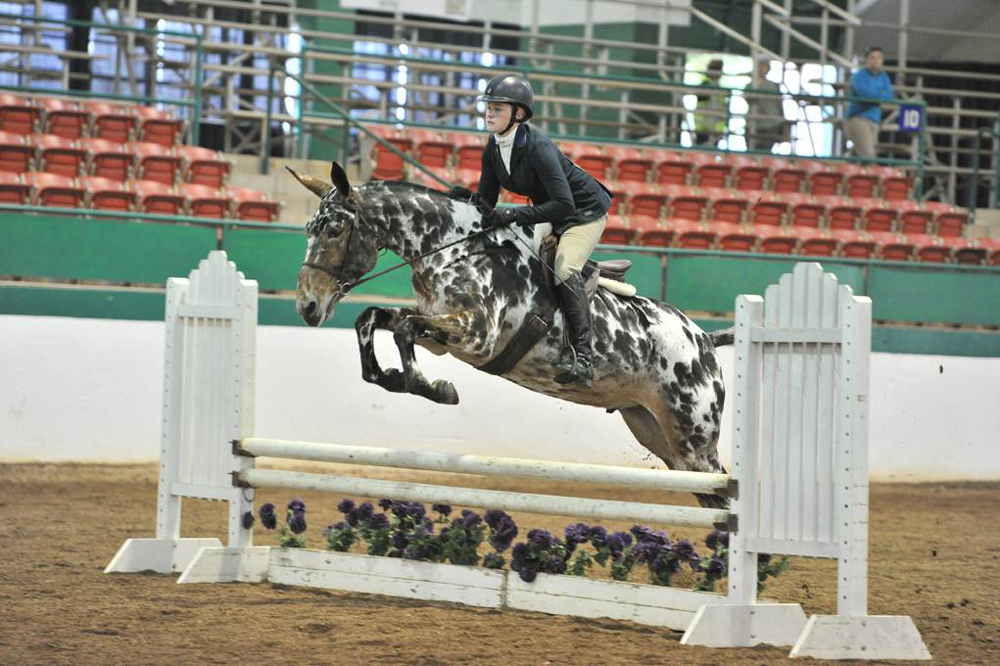 He recently returned home from the North Carolina State Fair Mule and Donkey show with plenty of ribbons, winning Most Colorful Mule class, Hunter Hack class, Coon Jumping, Pleasure Driving-Single Mule, reserve champion Pleasure Driving, the Turnout Class and Reinsmanship.
Read the whole article here and visit Buckeye's Facebook page.