4-14-20
The "Hourglass Pattern" is an amazing therapeutic approach to conditioning that I have used with all of my equines of varying ages, sizes and breeds. It builds a foundation of symmetrical strengthening at the core involving the ligaments, tendons muscles and soft tissue that support the skeletal frame and promotes even wear of the cartilage between bones in the joints. It can prevent arthritis as the animals age. This is vital to your equine athlete's health. Chasity and I open the gate to her rebalancing and rehabilitation exercises in the "Hourglass Pattern."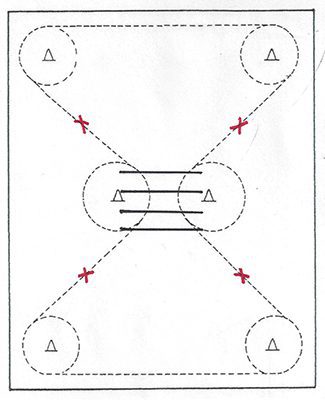 The red "X's" in the pattern represent the points where you are to halt, square up, reward and wait. This process becomes helpful as your equine learns to navigate gates properly and learns to wait patiently through repetition and consistency in your behavior. Always go through gates exactly the same way so your equine knows what to expect. Abrupt actions lead to chaos.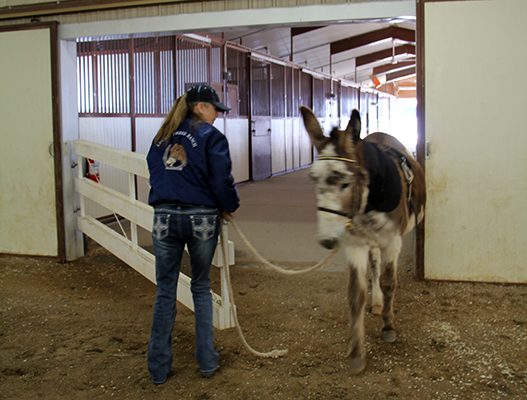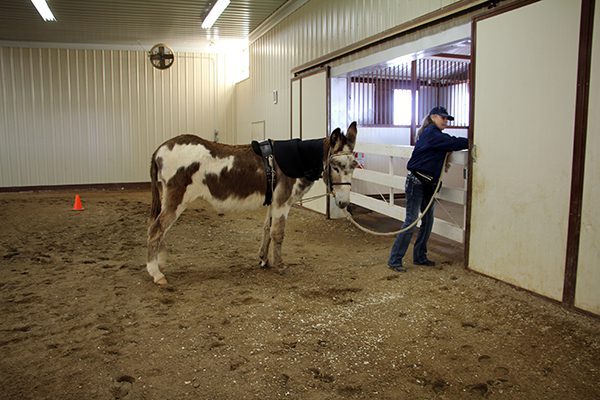 We want to promote self-carriage, so we do not hold the lead rope in the right hand when leading from the left side where it can subtlety cause movement in the head and neck from side to side, adversely affecting their balance. Rather, we hold the lead rope in the left hand when leading from the left side and in the right hand when leading from the right side. We lead from the inside of the arcs in direction through the pattern. Always, say the animal's name, give the command to "Walk On," look where you are going, point in the direction of travel with your other hand and walk in sync with the equine's front legs. This facilitates good posture for both of you!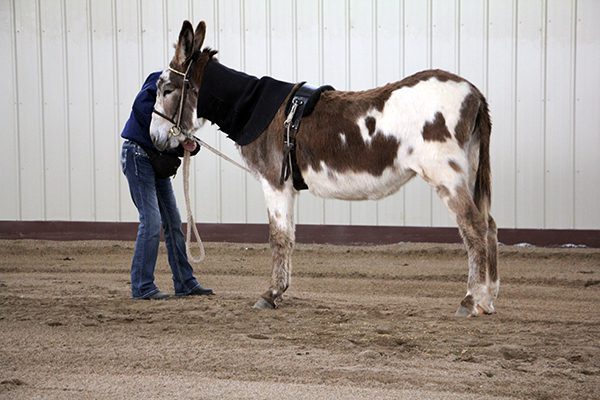 When negotiating the "Hourglass Pattern," there is an internal pendulum that swings back and forth and comes to center each time the animal halts and is squared up. If you were to work only along straight lines there is an optical illusion that takes place along the perimeter and makes the animal's body lean to the inside of the track, and when halted, they cannot find the center of balance. Every time you halt, square up your equine and reward with the crimped oats that you keep in your fanny pack around your waist (other "treats" will not work the same way!). Then wait until they finish chewing so they can settle into their perfect balance unobstructed.
As they progess, they learn to bend to the arc of the turns through their rib cage, carry their body erect in good posture supported by stronger ab muscles that round the back upward as they learn to give to the "Elbow Pull" such that it remains loose. When it is tight, they are simply having difficulty holding their good posture and lean on the "Elbow Pull" much like a beginning ballet dancer must use the bar on the wall. Many people think that you do your equine a favor by not putting a bit in their mouth, but you cannot affect their posture without one. The animals that are not bitted and schooled in good posture can have all kinds of postural issues as they age. Chasity is falling in and out of good posture because she is only in Week Three of her training. As she improves, she will be able to keep the "Elbow Pull" loose for longer periods of time until it is always loose.
As this way of moving and standing becomes more habitual, so does their comfort in these positions. When they rest, they will stand 4-square instead of with splayed legs, or a hip dropped and a foot cocked. They are happy and deliberate in their movements and good posture continues to improve until this become their new habitual way of moving and resting. You will see marked changes in their play and rest patterns while in turnout.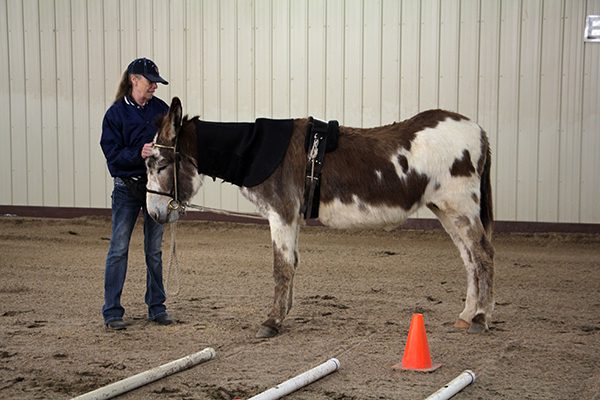 Adding rails to the center of the pattern keeps them attentive, alert and teaches exact hoof placement (hoof-eye coordination). As their movement becomes more deliberate and balanced, their confidence is increased as is their trust in you for making them feel so comfortable in their own skin. They learn to wait for your command  before moving. They look forward to their time with you and will gladly leave the herd to be with you! No more herdbound behaviors!
We build this foundation through the "Hourglass Pattern" first during leading training,  then after obstacles and lunging training during Ground Driving, and finally Under Saddle. Each stage produces new challenges to the equine's body and mind that add to their overall development in a logical, sequential and healthy way. Because of all these small steps, with gradual difficulty, it is easy and fun for both you and your equine to do. You are never over-faced with difficulty and you learn to appreciate the little victories along the way! Chasity was somewhat of a pushy, bully to start with, but she now waits patiently when I ask and navigates movement in much better posture, even after only three short weeks! More dramatic changes to Chasity's body and mind are still to come! It's not just about the end result. It's all about the journey!