4-14-20
We determined that Chasity had cataracts in both eyes, worse in the right eye than in the left. This made her hesitant to come to me at the stall door to be haltered. She wanted to come to me, but she just wasn't sure. I insist that ALL my equines come to the stall door or gate to be haltered, so I knew I would have to train her and win her trust to get her to do it like all the others.
When she went away from the door, I simply stepped to the inside door of her stall and encougraged her to come to me from there, but she was still suspicious and ran to the far side of the pen. I just walked toward her and spoke in a calming fashion telling her to "Whoa."
She began to get nervous and started to weave away from my approach, but before she could suck me into the back and forth along the fence, I stepped to the side, waved her into the stall and shut the door behind her.
She knew she was confined and went to the corner of the stall. I knew she could not see me very well with her right eye, so I opted to walk along the wall to her left side and approached her from the left side. Before attempting to put on her halter, I told her what a good girl she was and offered a handful of oats. I allowed her to finish chewing them before I put on the halter.
I was careful about putting on the halter slowly so I would not startle her and then gave her a reward of more oats for standing still. She was grateful and again, I waited until she was finished chewing before asking anything more from her.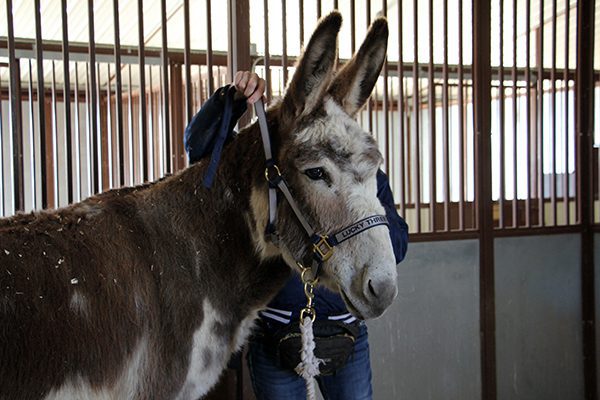 Then I asked her to square up with equal weight over all four feet. This would become the protocol EVERY time she stops. I want to change her posture and begin to increase her core strength in good postural balance. The repetition of this movement will change her habitual way of standing.
I rewarded her again and then took off the halter while standing by the open door and watched her chew.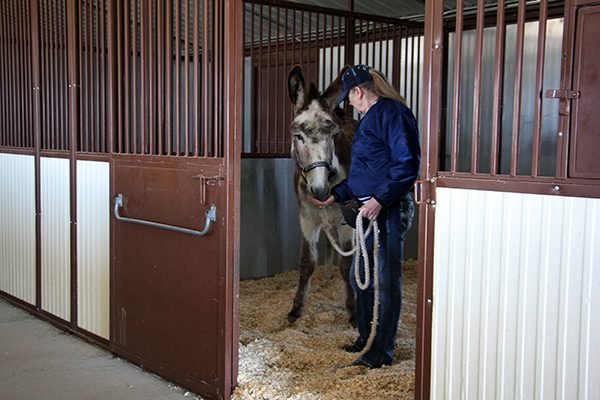 I rewarded her for NOT forging through the door, waited for her to finish chewing and then put the halter back on.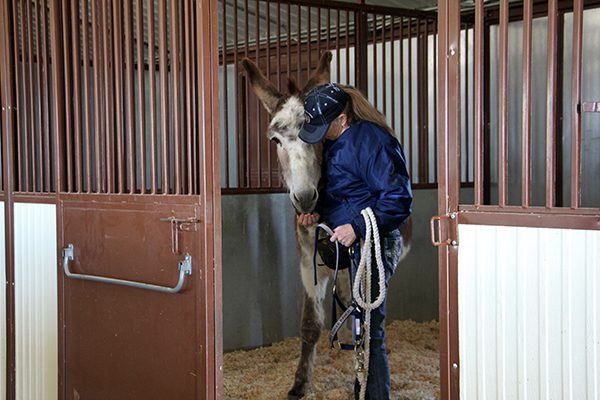 We then turned around and walked to the back of the stall to open the door I had closed, did another turn and exited the stall. She will soon tire of me going into the pen and chasing her into the stall. One thing that is also VERY important in halter training is the type of halter that you use. Although they do provide leverage, rope halters have pressure points everywhere there is a knot and the biggest knot is right underneath their ear. Try putting your index finger underneath your ear and ask yourself how long you could stand it just being there? Now put the palm of your hand under your ear. How does that feel? Nylon webbed halters lay flat against their face and do not cause distractions like rope halters will. The equine can focus their attention 100% on YOU and not be distracted by subtle pressure points!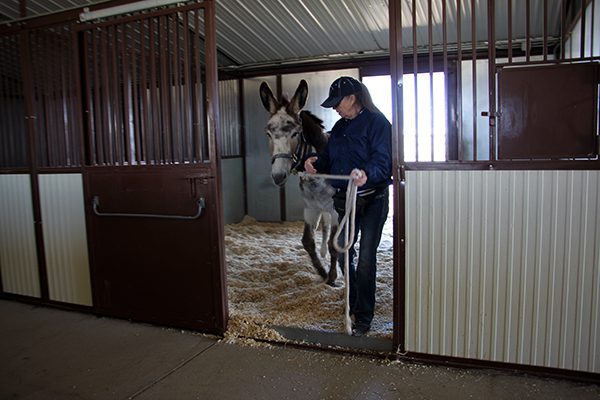 I would much rather encourage my animals to comply happily and willingly than try to use any kind of forcible leverage with them. I have found it to be unnecessary. Building a willing bond between you prevents them from becoming herdbound and being sour about leaving their friends. It enhances the relationship between you so they really WANT to go with you. This particular routine gave Chasity an idea of what to expect and resulted in her coming to the stall door willingly when I call her after only two times of having to proceed this way…completely resistance free. She is a very intelligent girl and learns quickly despite the disadvantage of cataracts. I have other equines with eyesight issues that have been successfully trained the same way. The key is patience, understanding and a careful, respectful and sensible approach.