Meredith Hodges, Creator and Executive Producer
Meredith Hodges, the world's leading authority on mules and donkeys, is also a respected trainer, champion equestrian and successful children's book author.
Educating and entertaining children through the character of Jasper the Mule comes naturally to Meredith. As the daughter of Peanuts creator, Charles M. Schulz, and mule and donkey breeder Joyce Doty, she uses her unique pedigree to introduce children to the courageous nature and fun-loving spirit of these remarkable animals.
Meredith is also executive producer of the award-winning instructional series, Training Mules & Donkeys, and the documentary series, Those Magnificent Mules and the author of numerous popular books on training for horses, mules and donkeys.
---
Jasper the Mule: Books
Meredith Hodges believes that children are the key to dispelling myths and preconceived notions. She developed the character of a young mule named Jasper to help children understand how truly intelligent and gentle mules and donkeys are.
Using easy-to-understand language and concepts, Jasper shares his adventures and strong friendships with his young readers, teaching valuable lessons in an engaging way that children really respond to. The stories are packed with excitement, adventure and mysteries, plus plenty of fun and interesting facts about mules and donkeys tailored just for kids.
Tennessee Mule Artist, Bonnie Shields, illustrated each of the five books with vivid colors and humor. The result is a series of beautiful, large format, hardcover books that are perfect for reading out loud at bedtime.
"A timeless and whimsical story with vibrant illustrations to be enjoyed by kids and families alike."

—Buckaroo Reviews, Western Horseman

"An adventure-filled story geared towards children that the entire family can enjoy!"

—Growing Up With Horses

"A story that every family member can enjoy and learn from."

—Horse Sense
---
Jasper the Mule: Animated Series
All six of the Jasper the Mule shows are designed to help children understand how to be kind to animals. The series teaches patience and acceptance and celebrates traditional family values, while using plain language and simple concepts to explore more complex issues.
Young Jasper makes mistakes and learns valuable life lessons, allowing children to relate to someone who isn't perfect but who, through trial and error and with the help of friends and family, discovers that each of us can learn from our mistakes.
Each episode is packed with lots of excitement, hijinks and mysteries, and plenty of fun and interesting facts about—what else—mules and donkeys!
Created by the world's foremost authority on mules and donkeys and respected equestrian expert, Meredith Hodges.
Teaches how important it is to treat animals kindly and with compassion.
Honest depiction of day-to-day life in rural America.
Interesting, fun and surprising facts about mules, donkeys and horses.
Realistic, interesting and often comical portrayals of equine behavior.
Intriguing 'mystery' sub-plots.
Strong family values underscoring.
Educational facts and challenging vocabulary usage.
"As a mom, I love that each episode highlights the strong friendships between the characters."

—My Rural Mommy

"Jasper the Mule was a HUGE hit in my home!"

—Rural Mama Sandbox
---
Jasper Goes to Bishop
Ages: 3-9
Animated character Jasper the Mule wants more than anything to compete at Bishop Mule Days in Bishop, California, but he doesn't think he's got what it takes. One morning, he discovers he's been magically transported into the real world, and he sets off for Bishop Mule Days. Along the way, Jasper meets some very funny and helpful people. He finally makes it to Bishop and meets beautiful champion competing mule, Peepers. When Peepers is injured, Jasper must take her place.
Jasper doesn't think he can do it and decides to chicken out, but a mini donkey helps him find the self-confidence he needs to be brave. After some fast-track training, Jasper wins his events! Tired out after his big day, he falls asleep dreaming of home. When he awakes, he's back in his cartoon world with his friends and family around him. His friends insist that he just had a wonderful dream, but he finds a first place blue ribbon from Bishop Mule Days—with his name on it!
Messages:
Self-confidence can help dreams come true.
The importance of taking responsibility.
The importance of keeping a promise.
Why we shouldn't judge just by appearances.
---
Jasper: A Christmas Caper
Ages: 3-9
It's the Christmas season and Jasper and his human family are in high spirits as they travel to visit friends a few towns over. When Jasper and his pal, Moxie the dog, get out of the yard and wander down a strange alley, the two friends are headed straight for one big adventure!
Presents disappear, mysterious strangers appear and friends go missing. But junior detectives Jasper and Moxie are on the case. With the clock ticking, Jasper has to use his "mule smarts" to tackle this puzzle of a mystery and put the pieces together before the big parade. But will he solve the mystery in time?
Messages:
Mules are very smart and resourceful.
We can accomplish a lot more if we work as a team.
Christmas is a time for giving and sharing.
The importance of telling the truth.
Positive message about cultural diversity.
---
Jasper: A Precious Valentine
Ages: 6-12
When Jasper and his human family head up to Bald Mountain for a picnic to celebrate Valentine's Day, Jasper gets a crash course in love.
The picnic is a special one for Ben and Kylie. Ben has decided to share with Kylie some memories of her mother, who passed away when Kylie was little. As father and daughter bond, the animals are having their own adventures.
Moxie is at it again, heading into the woods for some very messy hijinks. Meanwhile, Jasper discovers a big surprise that changes everything and gives him a true understanding of the holiday—his very own beautiful Valentine mule!
Messages:
What it means to care about others.
The basics of rewarding animals for good behavior rather than punishing them for bad behavior.
Important lessons about understanding and dealing with death, grieving, acceptance and healing, told plainly but compassionately.
Deals plainly with feelings that arise between young girls and boys.
---
Jasper: A Fabulous Fourth
Ages: 3-12
It's the Fourth of July and Jasper, being a true mule, is feeling pretty independent. With his sidekick, Moxie the dog, in tow, Jasper decides to take a trip up to his human family's house, where a big barbeque is in full swing.
Jasper becomes the ultimate "party crasher," as he quickly learns that mules and swimming pools don't mix. A raucous day turns into a wonder-filled night, as everyone celebrates the beauty and majesty of our country and the pageantry of its birth.
Messages:
Fun facts about the founding of the country and the important contributions mules made in that endeavor.
The concept of patriotism is discussed.
Freedom, responsibility and good citizenship are illustrated.
Learning to be grateful for what we have and understanding why the "grass isn't always greener on the other side of the fence."
---
Jasper: A Turkey Tale
Ages: 3-9
Jasper the Mule learns that giving is better than receiving as he and his friends get ready to share Thanksgiving with the kids at the local orphanage.
When Jasper and Moxie come to the rescue of a lost pet who has to find his way home, everyone learns the lesson of the importance of giving and the simple joy that comes from being with those we love.
Messages:
What it means to be thankful for what we have.
Why sharing Thanksgiving with others is so much fun.
How to accept each other's differences.
How working as a team helps everyone and gets the job done faster.
Interesting facts about the origins of Thanksgiving Day in America.
---
Series Cast and Crew Credits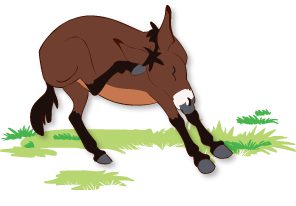 Cast:
Grey DeLisle
(Bolt, Scooby-Doo! Mystery Incorporated, Batman: The Brave and the Bold)
Jason Harris
(Chicken Little, Space Chimps, Codename: Kids Next Door)
Jason Marsden
(G.I. Joe: Renegades, Batman: The Brave and the Bold, Fairly Odd Parents)
Lani Minella
(Nancy Drew Video Game Series, Jonah Hex: Motion Comics, World of Warcraft Video Game Series)
Kath Soucie
(Beauty and the Beast, Futurama, My Friends: Tigger & Pooh)
Russi Taylor
(Mickey Mouse Clubhouse, The Simpsons, Jakers! The Adventures of Piggly Winks)
Crew:
Executive Producer, Creator – Meredith Hodges
(Training Mules & Donkeys, Those Magnificent Mules)
Producer, Director – Cheryl Pollak
(The Ticket, Those Magnificent Mules, Betty)
Animation Director – Doug Beck
(Space Jam, Prince of Egypt, Quest for Camelot)
Original Character Design – Bonnie Shields
(Cowboy Hall of Fame artist)
Editor – Adam Levine
(Something for Nothing, Maybe It's Me)
Sound Design – Thomas Chan
(Thumbelina, Chuckelwood Critters , Rosewell Conspiracies)
Sound Re-Recording Mixer – Tennyson Sebastian III
(Independence Day, Boogie Nights, Groundhog Day)
Composer – Charles Olins
(All About Steve, Twelve Monkeys, Deadliest Catch)
Original Songs – Riders in the Sky
(GRAMMY® Award Winners – Toy Story)
---
Powerhouse Animation Studios
Powerhouse Animation Studios was founded by industry veterans Frank Gabriel, Bruce Tinnin and Brad Graeber. Powerhouse animators have brought to life characters such as Jay and Silent Bob, The Proud Family, Elmer Fudd, The Road Runner, Bugs Bunny and Yosemite Sam. Utilizing state-of-the-art technology to create a new approach to traditional 2-D animation, Powerhouse is known for their innovative, unique and fresh style. The Powerhouse team's film credits include work on Mulan, Lilo and Stitch, Anastasia, Titan A.E., Space Jam, Quest for Camelot, The Prince of Egypt, Thumbelina and The King and I.
DOUG BECK
Director of Animation
"Powerhouse Animation Studios has enjoyed the journey of bringing Jasper to life. We loved the challenges involved in taking Jasper from storybook to screen, as well as animating him and his four-legged friends. A Christmas Caper was completed by combining traditional, hand-drawn 2D animation with the technological advances and conveniences of Flash animation. Our hope was to combine these two elements to help tell the story in a fun and entertaining way."
---
Riders in the Sky
For thirty years Riders In The Sky have been keepers of the flame passed on by the Sons of the Pioneers, Gene Autry and Roy Rogers, reviving and revitalizing the genre. The band is the recipient of two GRAMMY® Awards for Best Children's Album for Monsters, Inc. and Woody's Roundup. Their distinctive sound and compositions are irresistible and help to paint a picture of rural life.
"We decided on an underscore using both newly created situational cues and melodies and Riders In The Sky vocal performances of the Jasper theme songs. We hope that, through our musical composition and performance, we will continue to be a part of making Meredith's vision of Jasper come to life."
– Joey Miskulin, Riders In The Sky
---
Contact
Mailing Address:
Lucky Three Ranch
PO Box 272490
Fort Collins, CO 80527
Phone: 800.816.7566
Jasper's Website: JasperTheMule.com
For logos or graphics, please send us an email or call us at 970-663-0066.