September 2011
____________________________________________
___________________________________________
Check out our
BRAND-NEW
website!
We're so excited about our newly redesigned Lucky Three Ranch website! The new search function means that whatever you need is now easier to find. Everything is right at your fingertips, from Meredith's answers to your questions, to the entire library of "Mule Crossing" articles, to website updates and live newsfeeds.

So stop by and get acquainted with a whole new way to stay in touch with the latest in longears. And feel free to leave your comments and suggestions-we'd love to get your feedback!
___________________________________
Lucky Three Ranch Tours
Meredith personally conducts tours of her world-famous Lucky Three Ranch throughout the year. So if you share her love of longears, or you're just plain curious to learn what a real working equine ranch is all about, give us a call at 1-800-816-7566, or visit us online at www.LuckyThreeRanch.com.
___________________________________
Look for us on Facebook and Twitter
Join the fun!
Follow Lucky Three Ranch on Twitter and get the lowdown on what's up!
And be part of the Longears community - share your thoughts with Meredith on Facebook. Be sure to click "like" to join both the Lucky Three Ranch and the Meredith Hodges fan pages.
___________________________________________________
Featured Product
Jasper: A Turkey Tale
is coming to DVD!
Jasper the Mule learns that giving is better than receiving as he and his friends get ready to share Thanksgiving with the kids at the local orphanage.
When Jasper and Moxie come to the rescue of a lost pet who has to find his way home, everyone learns the importance of giving and the simple joy that comes from being with those we love.
With new original music from
Riders in the Sky!
Available October 24th!
_____________________________________________
Longears Limelight
The deck is stacked! People with mules have all the fun!
_____________________________________________

________________________________________________________
Dear Friends,

My how the summer has flown by! We had several senior tours in June and they are always loads of fun. The seniors seem to appreciate the value that mules hold in the building of this great country, as many of their ancestors had occasion to work with our remarkable longears. The stories they have to tell from their childhoods are always interesting and inspiring. No matter how varied these stories may be, the theme is always the same-those who worked with mules and donkeys have had the privilege of a full and healthy lifestyle. Their mules and donkeys not only taught them the value of a good work ethic, but provided lessons in how to get along with each other in a mutually satisfying way. As those with longears will tell you, you either learn humility from them or you just don't get along with them!
I was happy to see our local clubs, associations and clinicians forging ahead with many exciting shows and events to attend this summer, in spite of the difficulties in their various areas. Atttendance was certainly down, as travel and the economy are at a low, but the undaunted spirit and drive of longears lovers always produces an unyielding optimism. If you want to see fierce competition, go to a horse show. If you want to experience fun and excitement, go to a mule and donkey event!
Sadly, our community has lost one of its finest ambassadors. Our hearts go out to Kathleen Conklin for the loss of her grand Percheron mule, John Henry. John Henry had an amazing career and broke numerous barriers in equine sports. Kathleen bought John Henry as a three-year-old from an Amish farmer, and their 17-year partnership included championships at every major equine venue, including the prestigious Walnut Hill Carriage Driving Competition. Finally, at the OakenCroft Equine Clinic in New York, veterinarians found a football-sized tumor under the great mule's heart. Our condolences go out to Kathleen Conklin for the loss of her wonderful long-eared hero!




Mini donkeys Spuds and Augie, now 11 months old, are having a lot of fun learning all about ground manners here at the Lucky Three. We try to make each new lesson fun and exciting for them, and they really enjoy the diversity yet simplicity of the training. Their latest summer adventure involved leading training (without their halters) in the hayfield, where they could have easily gotten lost had they not followed obediently!

July came quickly and the old barn demolition began, followed by excavation at both Hearts & Horses and here at Lucky Three Ranch. I can't believe how quickly the old barn went down and was relocated to Hearts & Horses. Here at the ranch, the new 14-stall barn with enlarged stalls (12' x 14') is close to being finished after only a month's work! The same crew is working both locations, and I couldn't be prouder of my ranch manager, Chad Leppert, who has coordinated these efforts with his crew of two, the Port-A-Stall crew, the excavators, plumbers and electricians. This was no small project, but it is being executed with unbelieveable finesse and minimal interruptions!

Our rescue draft mules, Rock and Roll, continue to improve, although Rock has had a setback this month, due to the outgrowth of the founder in his front feet. This was to be expected and, after one week of being three-legged lame, he is again gaining better condition in his feet. He will remain on limited activity until the severe founder has fully grown out in an expected six to eight weeks. Rock is only walking over hard ground to go to the Tack Barn for his once-a-week massage.

The rest of the time, he goes from his pen straight into pasture turnout for two hours each day. Roll is still getting his once-a-week exercise in the round pen, and is beginning to gain the strength and balance he will need to be useful again-I have been working him under saddle in hopes of doing some light riding with him. He does have side bones in the right hind, which are a concern, but they do not appear to be hindering his progress, as long as we keep the foot trimmed and balanced.

And last, but certainly not the least, we are proud to announce the launch of our new and improved website! We have lots of new information, easier access to existing sections, a search engine to help you quickly find answers to your questions, live newfeeds and translated information in French, German and Spanish. And don't forget to check in at Jasper's website to take a look at his latest new game, where he and his friends allow you to take them to the show ring in Barrel Racing, English and Western Pleasure, Driving and Jumping. When you're loving, learning from and living with longears, it's all about the fun!

Best wishes and Happy Trails,

Meredith Hodges
Question:
I know you have covered "flighty mules." I have worked enough with my mule that I am able to do practically anything with him. He is still somewhat green under saddle but is doing very well. My problem is, whenever my fiance or a stranger walks up to him, he backs up and bolts away, which, of course, I let go. Now, is the only way to fix this to have the person or numerous strangers work with him? What specifically should I have them do? I am the only one training him, but he can't be bolting away every time someone else walks up to him, especially when I want to show him and go on trail with him. Please help!
Answer:
It sounds to me as if you have gone through the leading training too fast. In the leading training, you build their confidence and they learn to have trust in you. If you have employed the reward system (crimped oats rewards) and are feeding as we recommend, they don't usually bolt and run from strangers. Rather, they learn to wait and look to you for guidance. In order for this to occur and for them to build good core muscle strength, you need to practice these exercises diligently for six to nine months on the flatwork, and another six to nine months on the obstacles. You do this in good posture, matching your steps with theirs, while in good posture yourself. Take things in small steps, and wait for them to master a couple of steps before adding any new ones. When you take the time to do this at this stage, and then move through lunging and ground driving with the same things in mind, they do form a more solid bond with you and will learn to stop and think, rather than bolt and run.
From Our Readers:

Hi Meredith,

It was so much fun to visit with you last Friday! What a beautiful ranch you have! All the animals, feral cats included, are so lucky to be cared for by you and your staff. You definitely do it right. Thank you for taking so much time to show us everything. We thoroughly enjoyed it. Your hard work and dedication is awesome! All our best wishes to you and your Lucky Three Ranch!

K and B
Leah's Corner
When the going gets hot...
This year is one of the hottest on records in portions of the south. And yet, in other areas, we hear of rain, hail and flooding. Somewhere, a cycle is definitely off.
Whatever is causing this means that the market is unstable. The main reason? People can't afford to feed their animals in some places. In Texas there is little or no hay, it's being trucked in from out of state at twice or triple the prices last year. The experts are encouraging cattle farmers to go ahead and sell out rather than feed their herds through the winter. In places where horse classifieds are listed, the prices are deplorable.
What's a body to do? No one wants their animals to suffer, but can you afford to feed your herd? Can you rescue one or two and still support them all for several years? What is happening with your breeding operation?
A good rule for breeding farms is to make sure you have a market for any foals. Yes, this means planning a year ahead, but you can get a feel for the market by looking at how sales are in your area. If you had ten foals available and sold them all at your asking price, you are doing phenomenally well. If you had ten foals and sold eight, you are doing great. If you have half your foals left and are breeding all ten jennets or mares again...you might want to rethink your plans. Which of your foals sold best? Breed, type, size, color? Were pinto mules selling, but buckskins not? Were geldings snapped up, or did only jennets leave your farm (you do geld non-breeding quality jacks, don't you)? How were show attendances? What was popular in the ring?
If one has yearlings and weanlings still in pasture and foals on the way, sit down and look at your plan. What is your herd looking like overall? How much is it costing you to feed the entire outfit? Was hay and or grain easy to obtain and affordable?
No one wants to see a herd being sold off because the owner can't keep up with feeding. It means bad news in the long run-short-term homes, rescues and always the possibility of neglect. Certainly, no breeder wants to find their special pets years later in a pen at an auction (and it has happened, and does frequently). The rescues are overtaxed in years like these, as well.
Keep your books up to date, not only on your breeding plans, but your receipts and tax notes. If you can, take a weekend and sit down and look over your budget. Are you staying in the black? In the red? Or just ahead?
Breeds depend on having good-quality, sound stock each year to keep the bloodlines alive. A sudden stop in all breeding populations would cause long-run harm to some breeds (especially rare ones), but at the same time, it's never good for a breed to see animals going to auctions for pennies on the dollar.
If we all have sound, long-term goals and watch how we plan in advance, we can all ride through the bad times and prepare for better ones in the future.
Leah Patton,
Office manager, ADMS

The Am. Donkey & Mule Soc. PO Box 1210, Lewisville TX 75067, (972) 219-0781.
Newsletter: the BRAYER magazine, 112 pgs 6X/yr, $23 US, $30 Canada, $45 overseas. We now accept Paypal, Visa/MC (+$1 courtesy fee appreciated). Reg info, forms, fees on our website at www.lovelongears.com.
Bonnie's Bit
It has been my usual way-too-busy and way-too-short summer. It being mid-August as I write this, we have just sent off the third wave of houseguests and there is JUST enough time to wash the dishes and change the sheets before the next bunch arrives. North Idaho is (my opinion) beautiful at all times, but August is the premier time for guests up here, as that is when the weather is the best.
Speaking of weather, summer almost didn't get here at all. Even up into mid-July, it was cold and rainy. Grass was growing like crazy, but no one could get it cut and baled. We usually have our barn full of hay by the second week in July. This year, it happened the last day of July-but it did happen and it is beautiful stuff. In the mountains, the huckleberries are just now ripening and local gardens are also way behind. If we have our usual early September frost, it will be bad for bears and people.
My big news is I have found a replacement for my dear Porter mule that died last Nov. I had ridden Porter for 22 years and we knew each other like only old friends can, so he has big shoes to fill. What I finally found was a HINNY! Now, a hinny is a mule in "reverse." By that, I mean he has a horse for a daddy and a donkey for a mama.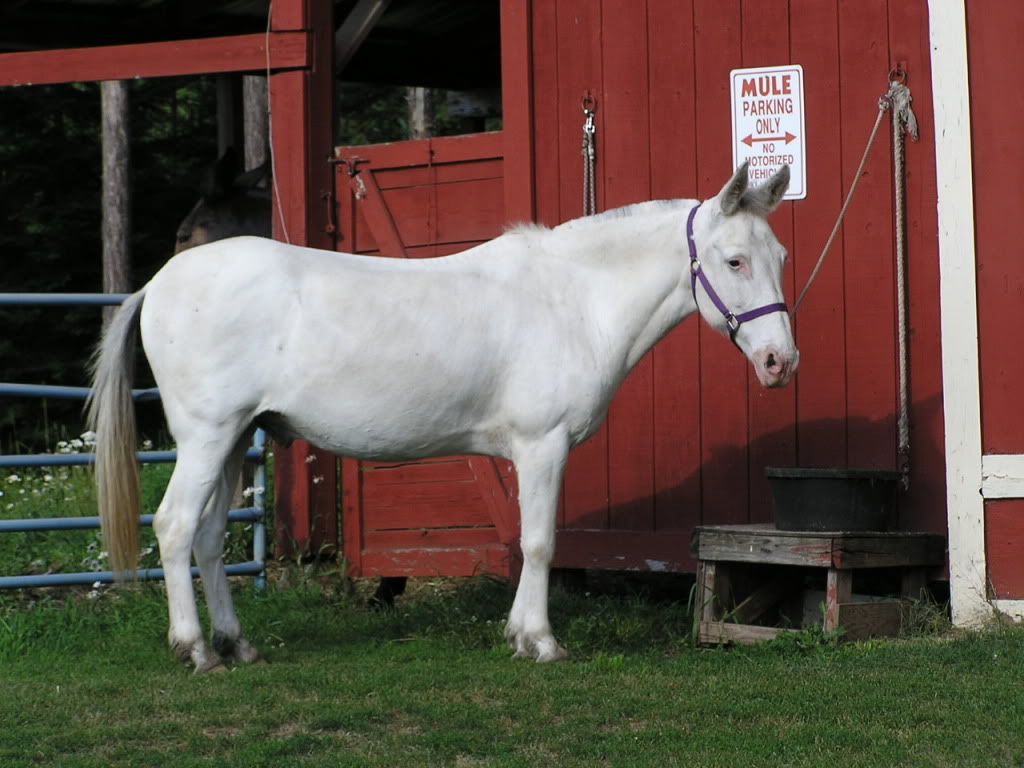 "Buddy" is 14hh and snow-white, about 20 years old. He's been a pack "mule," and is winding up his years hauling old ladies about. He doesn't know a lot of sophisticated saddle stuff, but he is quiet and willing and patient, so we will get along just fine, as I don't know that stuff either, ha. Took my first long trail ride on him yesterday (Aug 14) and we did 12 miles, three of which were steep up and then three steep down, and he handled me and the trail just fine. And, boy can he walk!!! He out-walked my husband's 17hh thoroughbred mule, Lucile, and it turns out Buddy likes to lead.
Next on my agenda is going to the Colfax, WA steam threshing on Labor Day to see my friends, the Overmeyers, put four of their gorgeous grey Percheron mules to the push-header. I have never seen this work, so will be shooting LOTS of photos. After that, it is on to Enterprise, OR for their Hells Canyon Mule Days with my buddy, Cheryl Mundee. Then, two weeks later is the big Idaho State Draft Horse and Mule International here in Sandpoint. Ole BS is gonna be busy and happy amongst the mules and the drafters, and their wonderful owners and fans. After that, it is back to the drawing board for serious catching up on projects and preparing for Cowboy Christmas at Las Vegas and NFR. No rest for the wicked, you know.
Bonnie