By Meredith Hodges
The purpose of tack and equipment has always been to give man leverage against the equine's resistance during training, but I believe that the equine is "talking" with his resistance and this is a cue to find another alternative to achieve harmony when something isn't working. There is an ongoing discussion about the use of cruppers and breeching when riding mules and donkeys, and even some horses. The purpose of both is to keep the saddle from sliding forward when the equine is in motion, whether he is tracking on flat ground or going up and down hills. Inappropriate use of both devices could give the equine problems. Whether or not to use a crupper or breeching is not an either/or decision. My equines taught me that in order to make an educated decision about which to use, one needs to take into account the anatomy of the equine and the effect that each has on his body in motion during different activities.
Good conformation is important in allowing the equine to perform to the best of his ability, but the tack we use has an effect on the equine's movement in spite of his shape. In order to obtain freedom of movement, the elements of the equine's anatomy must be allowed to move freely through every joint of his body. Energy and blood circulation finds open tracks throughout the body and when unobstructed, will run freely from the core of the body to the extremities in a healthy equine. Core and bulk muscles that are developed symmetrically support the skeletal frame, the cartilage and ligaments that surround the joints, and the tendons that tie the skeletal frame together. All work to support the proper internal organ functions and when the equine in good posture with symmetrical strength, they are unobstructed.
Many people have approached me with questions about cruppers. Their primary concern is that the crupper can break the tail when under pressure. If there is enough pressure put on the crupper to break a tail, then the crupper should break first!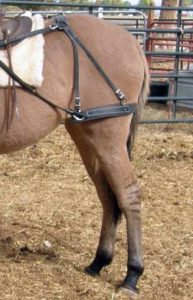 When the skeletal system is adequately supported with symmetrical muscle strength and especially over the top line, the animal is better equipped to use his body efficiently, tucking his tail and using leg muscles to support his own weight while his spine remains flexed upward along the top line to support the weight of the rider. The extremities have full range of motion so he can pick each step with confidence and no obstructions. An animal with insufficient conditioning will hollow his back and neck and try to compensate for his inefficiencies in muscle conditioning and movement. When pressure is put on the crupper of an animal with inadequate muscling, there is weakness over the top line and tail that will not support heavy weight of going downhill and could possibly do damage to the spine at the dock of the tail. Just for the record, I have done lots of trail riding and three years of cross country (3 miles, up and down hills, over twenty jumps) and have always ridden with a crupper on all of my mules with nary an incident.
Breeching originates with pack and driving animals and has a distinctive purpose to keeps loads from shifting on pack animals and to provide "brakes" for those in harness. Breeching generally has a "crupper" built in with straps on both sides to attach to the saddle and help to stabilize the load. But in each case, the breeching is being used with an inanimate object that will not resist against any adjustments or corrections that the animal might make in his own body. An unbalanced rider is more difficult for the animal to balance than an inanimate load. The equine can adjust his load with his own body movements, but he cannot easily adjust a live load that works against his balance like an unbalanced rider would inadvertently do. If using a crupper, the animal has full range of motion in his body and legs with the maximum strength to back up any movement that would help to correct the rider's position and keep him over the equine's center of balance.
The problem with breeching on a saddle equine is in the configuration and the way it sits anatomically. When going downhill, the breeching must be snug to do its job properly and it will keep the saddle from sliding forward. However, it also compresses the biceps femoris, a large muscle in the hindquarters that functions to extend the hip and hock joints, and also causes a flexion of the stifle, and a rotation of the leg inward. When pressure is applied to this area, it restricts circulation and extension of the hind leg backwards and causes compromises in the muscles groups resulting in asymmetrical conditioning. This doesn't pose a real pressure problem going downhill. The stifle joint is configured so it can lock when needed through a stay mechanism between the stifle and hock, but it should still have the freedom of full range of motion if it is to function properly and not get unduly locked up. When the actions in the animal's body remain symmetrical and orderly all of the joints, including the stifle, are able to function properly. The stifle will usually get locked up only when there are chaotic and unsupported directional actions coming through the joint.
When going uphill, however, the breeching must still be snug to do its job, but the animal is not allowed full extension of the hind legs, so more pressure is put between backward motion of the femur and the breeching. This results in compromised circulation, restricted movement in the hind legs and an inability to control hind quarter foot placement. In a crupper, the animal going uphill has full extension in his hind quarters, an ability to maintain good posture and balance and this results in exact foot placement to maintain that balance comfortably and safely.
The weight and ability of the rider will determine how much pressure is put against the animal and how much resistance it will cause. Even though mules can carry proportionately more weight than a horse of the same size, this doesn't mean you can indiscriminately weight them down until their knees are shaking. Be fair and responsible and do your part in the relationship. Do not expect the animal to carry an obviously overweight body that doesn't know how to control itself! Participate in training activities that prepare you both, first with groundwork and later under saddle. As you learn to ride correctly and in balance, you also learn how to ride supportively and take the stress out of going uphill and downhill. You will then find the crupper much safer and more efficient when riding in all kinds of terrain…even if you are a little heavier than you should be. You and your animal will be conditioned properly and he will be able to pick his way efficiently, safely and unobstructed!
To learn more about Meredith Hodges and her comprehensive all-breed equine training program, visit LuckyThreeRanch.com or call 1-800-816-7566. Check out her children's website at JasperTheMule.com. Also, find Meredith on Facebook, YouTube and Twitter.
© 2017, 2018, 2021, 2022 Lucky Three Ranch, Inc. MULE CROSSING All Rights Reserved.