MULE CROSSING: Breeding Quality Mules
By Meredith Hodges
In the past, mares unsuitable for improved horse-breeding programs were the mares used for mule breeding. Looks and conformation were of little concern, since the animal that was produced had limited use for draft and farm work. In 1967, with the founding of the American Donkey & Mule Society, a new type of mule began to emerge—the American Saddle Mule—limited only by the imagination in his uses. As the mule's popularity grew, so did the need for more carefully organized breeding programs to try to produce only the most superior mules in overall appearance and athletic ability.
In what I refer to as Phase I of our Lucky Three Ranch breeding program, my mother, Joyce Doty, successfully bred attractive, athletic and versatile mules at Windy Valley Mule Ranch in Healdsburg, California, between 1973 and 1979. They were bred for pleasure, work and show from 60 head of assorted breeds of mares. These mares included Arabians,
Thoroughbreds, Tennessee Walkers, Morgans and Draft horses, but no Warmbloods.
We learned that the jacks would produce a stronger and more durable offspring, but that the heavy-boned Mammoth Jacks were not necessarily producing the most athletic—or the most attractive—saddle mule offspring. It seemed that the smaller, more refined Large Standard (48″ to 56″) and Standard Jacks (40.01″ to 48″) were better for the production of Saddle Mules. This led to Phase II of our breeding program.
Little Jack Horner, a Large Standard, was the last jack born at Windy Valley Ranch before its dispersal in 1979. In 1980 I brought him to my new Lucky Three Ranch in Colorado to become the sire supreme. My main focus was on the production of attractive, athletic, amiable and multiple-use saddle mules that would be suitable for the widest variety of uses. Beginning in 1982, Little Jack Hornerwas used with a number of different breeds of mares, including Quarter Horses, Appaloosas and a Half-Arab/Half-Quarter Crossbred. Over the next six years, as the offspring aged and matured, their abilities were quickly recognized. They excelled in all events at the shows and gave the Lucky Three its current reputation for breeding only the best.
In late 1985 I began taking a special interest in Dressage and Combined Training—the Breed shows no longer held a challenge for me. Our Quarter Horse, Appaloosa and Arabian mules competed against horses in Dressage and Combined Training and our mules were quite competitive. They were exceptional in their gaits, responsive, submissive and lovely to watch. Only two real major problems became apparent if we were to continue on this path: 1) The mules were a little too small (only14.2 to 15.3 HH) and, 2) the Quarter Horse influence caused them to be built slightly downhill, creating problems with overall balancing. It was time again to revise our breeding program.
Midnight Victory (or "Vicki," as she was nick-named), a Trakehner cross, was born just before midnight on June 21, 1990. I had seen only one Trakehner-bred mule in my entire life, and it was the most elegant and refined mule I had ever seen, with conformation to spare. And now I had one!
Vicki was everything I have always bred for in a mule, exhibiting quality in her looks and her movement, and in and the kind of intelligence that is exalted by horsemen and women everywhere. She was the product of 17 years of selective breeding, which, in the case of the hybrid mule, can be a very lucrative and frustrating business. Frustrating because of people's preconceived ideas about mules, because of the close attention that must be paid to selection of the right jacks and mares, and because of genetic considerations when breeding, such as Neonatal Isoerythrolisis (a condition that occurs when the mother's blood is incompatible with her foal's—similar to the RH negative factor that can occur in human mothers and babies).
Why a Trakehner cross? We spent years breeding donkeys before we finally got Little Jack Horner, a sire that predictably throws refined, attractive and athletic offspring, as well as producing some of the top halter mules in the country. Crossing him on Warmblood stock seemed like the natural thing to do next. We did need to be careful in choosing the type of Warmblood mare that would make the best match.
The Trakehner horse was carefully bred as a versatile and durable animal, with refinement and elegance in mind. Today, this horse plays an important role in the evolution of the mule from an ugly duckling into another beautiful swan in the American Horse Show ring.
After careful consideration of refinement and movement, we decided that the Trakehner would be the best cross. We feared that some of the other Warmblood breeds might produce too heavy an animal, something we had spent the last 17 years breeding out. In using caution and a careful breeding program, the Lucky Three Ranch was well on its way to producing the best in Sport Mules. Heartier and more athletic than their Thoroughbred and Trakehner dams, they were capable of performing in more versatile ways than were ever before imagined.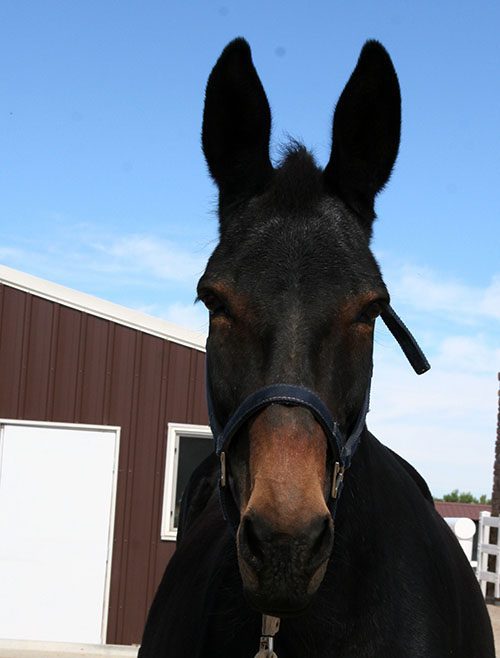 Phase III was the most exciting phase of the Lucky Three Ranch breeding program. The size and "downhill" problems had been solved, and the offspring made our dreams come true and their "presence" known. My deepest gratitude goes to all the conscientious people in the Thoroughbred and Trakehner industries for their special attention to selective breeding programs that have made it possible for us to produce such a lovely and remarkable hybrid.
It's hard to put your finger on it, but there's just something a little more special about Vicki. She is way above average when it comes to mules and she definitely commandsyour attention. She embodies the spirit of free expression and an almost eerie reincarnation of a perfect dream…with long ears! Could this "presence" be something genetic, passed down through the ages of Trakehner (and possibly Arabian) breeding? It would seem so.
The mules of Lucky Three Ranch are living proof of what quality breeding produces. They are elegant, first-class animals that are easy keepers, inexpensive eaters and loyal, personable companions—you need only feast your eyes upon these mule offspring to be convinced!
To learn more about Meredith Hodges and her comprehensive all-breed equine training program, visit LuckyThreeRanch.com or call 1-800-816-7566. Check out her children's website at JasperTheMule.com. Also, find Meredith on Facebook, YouTube and Twitter.
© 1990, 2011, 2016, 2019, 2020 Lucky Three Ranch, Inc.  All Rights Reserved.