Our farrier, Dean Geesen, came out again today to check on Roll assisted by Lucky Three Ranch Manager, Chad. We let Roll go a little longer between trims this time to help with the healing of the White Line Disease. He is making good progress and has a lot of new hoof growth on his left hind. He is having no trouble bearing weight on it.

The dead tissue is now only present on the lower half of his foot and the new growth is staying healthy so far.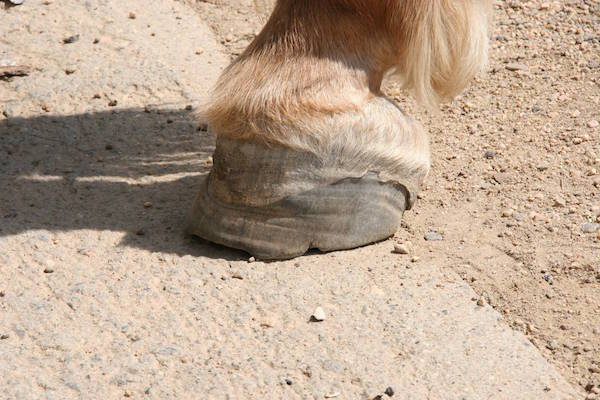 We have been fortunate to be able to keep him in good balance over the foot to prevent any more abnormal hoof growth and to promote healthy hoof growth. We put shoes on the other three feet to keep them from wearing unevenly during the healing process.
What we have been doing has worked well. We opted to continue with shoes on three feet and to leave the White Line foot without shoes for one more stretch. We don't want to compromise the foot with any nail holes quite yet.
Even with all his issues, Roll has yet to experience one lame day since he first arrived at the Lucky Three in 2010. The White Line Disease began in January, so we are making good progress in a relatively short time. Thank you all for your prayers for Roll!